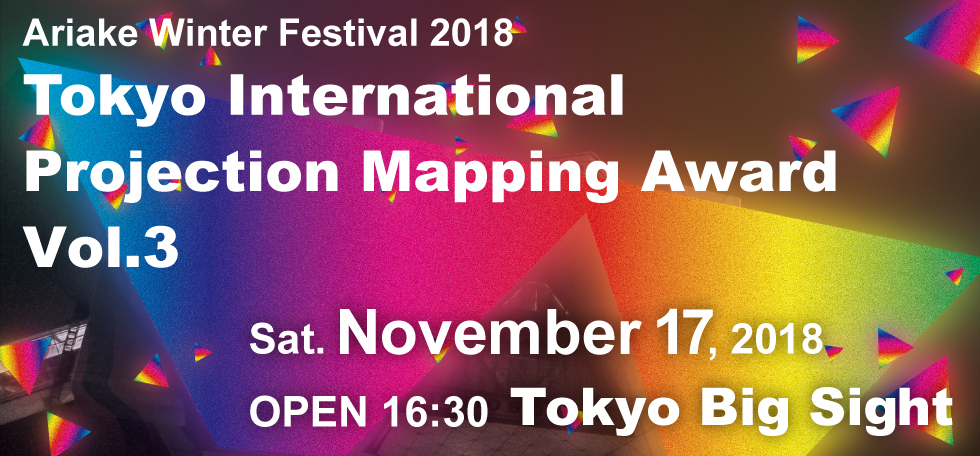 Ariake Winter Festival 2018 Tokyo International Projection Mapping Award Vol.3
It's the largest projection mapping contest in Japan and this is the third time it has been held this year.
The theme of Vol.3 is "Japan" and 16 works made by young talented creators were nominated.
Also, in the finale, you can enjoy watching the collaboration work between projection mapping, music and fireworks.
Please visit and see the screening event and the award ceremony in Tokyo Big Sight!

Please check facebook too!
Date and location
Date: Sat. November 17, 2018
Time of the screening event: open 16:30 / start 17:00 / close 19:00
Time of the award ceremony: start 19:30 / close 20:00
Location: Tokyo Big Sight, 3-11-1 Ariake, Koto-ku, Tokyo, Japan 135-0063
*Admission is free.
*Several kinds of hot drinks such as soup and coffee are served for free.
*Free drinks are in limited supply.
Nominated 16 teams
*Details are in Japanese.
*They are in no particular order.
01. Otsuma Women's University
02. Kyoto Seika University
03. Saga University
04. Sapporo City University
05. Tokyo Metropolitan University
06. Joshibi University of Art and Design *graduate course
07. Shinshu University *graduate course
08. Tama Art University
09. Daido University
10. Digital Hollywood University / Tokyo Polytechnic University / Japan University
11. Nippon Kogakuin College Hachioji
12. Tama Art University / Nippon Kogakuin College Hachioji
13. Nippon Electronics College
14. Takarazuka University
15. Takarazuka University / Tokyo Denki University
16. Université du Québec à Montréal
Judge
Yasushi Kawamoto (the chief editor of "COMMERCIAL PHOTO")
Tetsuya Chihara (the representative of "Lemon Life" / the art director)
Marc-André Baril (the director of "Moment Factory" in Tokyo)
Daisuke Moriuchi (NHK / the producer and designer)
Daisuke Hashimoto (the filmmaker and animation creator)
Organizer
Tokyo International Projection Mapping Award Executive Committee
Co-host
Tokyo Waterfront City Association
Special sponsor
Tokyo Big Sight Inc.
IMAGICA GROUP
Panasonic Corporation / Panasonic System Solutions Japan Co., Ltd.
Management
P.I.C.S. Co., Ltd.
IMAGICA DIGITALSCAPE Co., Ltd.
Prize and money
・Best Performance Award (trophy, certificates and 500,000yen)
・Outstanding Performance Award (trophy, certificate and extra prize)
*The total prize of money is 1 million yen.
*In some cases, the judges select Special Recognition Award.