Entries for "Tokyo International Projection Mapping Award Vol.4" are closed in 14th June at 6pm in Japanese time.
Thank you very much for many applications.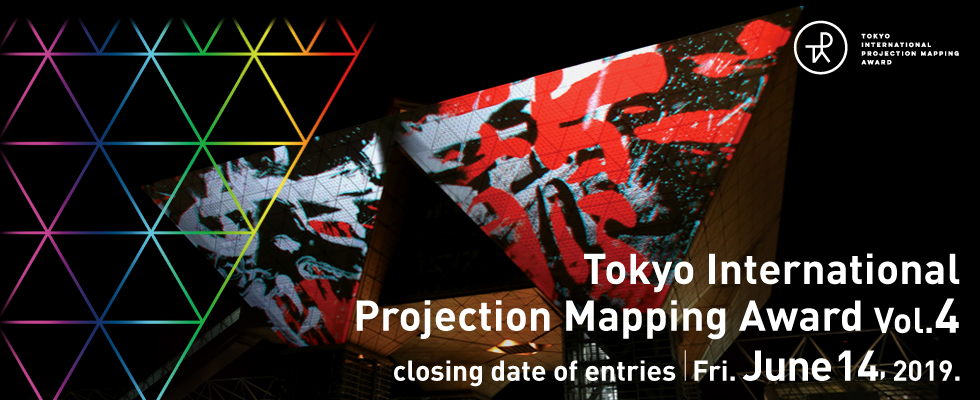 Purposes
To develop the human resources that will form the core of the future contents industry by creating a gateway to internationally recognized success for young moving image creators, and, at the same time, create opportunities for greater interest in and appreciation of contents coming out of Japan by seeking to enhance the computer graphics contents technology that is projection mapping, further its spread, and extend the effort worldwide.
Organizer
Organizer: Tokyo International Projection Mapping Award Executive Committee (P.I.C.S. Co., Ltd., IMAGICA DIGITALSCAPE Co., Ltd.)
Outline
Implementation Method
With technology guidance from P.I.C.S. to produce a work. At the screening event, these works will be judged
and the winner of the awards announced.
Production Contents
The production theme is either "Unity" or "Sports".
Images for projection mapping. Produced work length—Approx. 2-3 minutes.
Screening, Judging
To be held on Saturday 16th November, 2019 from 5 pm to 9 pm at the Tokyo Big Sight. (Tentative)
Application Qualifications
Must be a student enrolled at university, graduate university, national institute of technology, college technical college or high school(Parental consent must be needed for highschool student under the age of 18 years old).
Must be able to attend the workshop and the screening and judging event*.
Participation is on a team basis, even if a team comprises only one person. Applications are to be made by one or more team representatives or faculty members.
At a minimum, one person in the team must be able to use 3DCG or 2D animation applications.
(*As a general rule, production of works by persons other than students is prohibited. Where a professional is cooperating, advice from that person is allowed.)
*Workshop
Participants who are living abroad or a distance can attend through Skype.
*Screening and Judging event
Participants who are living abroad or a distance will be provided travel to Tokyo and accommodation up to 4 person in the team by the office.
Judging
1st Round of Judging: Those persons who are applying for participation through the official website should submit the entry form, plan, and pledge by the due date.
Based upon judgment of these documents, successful applicants will be announced. The successful applicants will produce a projection mapping creation and present their work at the screening event.
Judging at the Screening Event: At the screening event 5 – 6 judges will cast ballots and determine the award winning works. It is planned to present award certificates at that event and in the future show those works at the Tokyo Big Sight.
Judging Criteria
[Selection Criteria in the 1st Round of Judging]
Whether the plan is impressive.
Whether the plan utilizes the imagery and features that are central to projection mapping.
Whether the work is suitable to be unveiled to a large unspecified audience at Tokyo Big Sight.
Whether the team is able to ensure sufficient quality.
Whether the team is comprised of members that won't quit mid-way through production and are able to perform production in line with the production schedule.
[Judging Criteria for Created Works]
Whether the entertainment contents can be enjoyed by both adults and children.
Whether the team was able to skillfully utilize 3DCG and animation technologies.
Whether there was 3D imagery with a tremendous impact that as projection mapping fully utilized the features of the projection screen.
Whether the moving images took full advantage of the high definition and wide color gamut.
Whether the work took full advantage of the blending of sound and images.
Major and Other Prizes
From within the submitted works, at the executive judging committee meeting, the awards and granting of major and other prizes will be decided.
The total prize money will be 1,000,000 yen.
Grand Prize Award (Prize money, trophy, award certificate)
Other Prize Awards (Prize money, trophy, award certificate)
*On occasion the judges may select special awards and prizes.
Entry Procedures and Schedule
Entry
Persons who entered from the official site will be given instructions on how to download the three documents required to make an application (Entry form, planning sheet, pledge).
Documents Submission
Please download required three documents for your submission from entry confirmation e-mail fron the office.

| | |
| --- | --- |
| Documents for submission | 1. Entry form, 2. Plan, 3. Pledge (Signed) |
| Submission Method | Please fill required three documents and upload from the URL mentioned on your entry confirmation e-mail. Please make sure to read the outline for submission written above. |

The 1st round of judging
Implement the first round of judging on the basis of the submitted documents. Accepted candidates will proceed to actual production for the screening.
Comprehensive Schedule
On 16th November at the screening event, the completed works will be shown, judged and the results announced.
Points
Schedule
Contents
Entry opens
Fri. March 15
Entry opens on the official website.
Entry close
Fri. June 14
Entry closes.
Application submission close
Fri. June 21
Submit entry form / planning sheet / pledge
1st round selections announced
Fri. June 28
Students who passed the 1 round of judging will be announced on official website and
notified by email.
Work shop
Sun. July 14
Projection mapping production advise will be given.
Progress check (1)
Fri. August 16
Interim progress report. Rough pilot movie data submitted
Progress check (2)
Fri. September 20
Interim progress report. full length movie data submitted.
Beta version data submission
Fri. October 18
Complete length beta version data submitted. (Pre-completion check)
Complete data delivery
Thu. October 31
Deliver complete data. (Submit in the designated data format)
Office data check period
Early November
Checking and modifying data period by the Office.
Screening event, Awards ceremony
Sat. November 16
Screening at Tokyo Big Sight.
Participation Regulations
To participate in this competition, upon submitting the entry form and the signed and sealed separately distributed pledge form, it will be deemed whether there is a true intention to participate in this competition and that participation has been agreed to by the enrolled school administration, teacher-in-charge, a representative of the production team and agreements obtained from all team members.
Rights to Images
After the screening event, it is planned to use award winning works for subsequent screening events concerning projection mapping on the Tokyo Big Sight.
The rights to images will vest in the organizer, IMAGICA DIGITALSCAPE, Co., Ltd. and P.I.C.S. Co., Ltd., its group company (Imagica Robot Holdings Inc.) and use right permissions granted to cooperative companies such as the Tokyo Big Sight, Inc., etc.
Further in addition for use in projection mapping, these images may also be used as awards and the abovementioned companies PR activities.
(Website, TV, newspaper, magazine, digital signage, works collections, corporate outlines are envisaged with no restriction on whether still or moving images.)
However, use permission will be granted to the participant themselves for job seeking activities and as production results from a creator's activities.
*Receipt of a completed entry form will be considered as consent to the above items. The signatories to the pledge will be the stated faculty members, etc., and all the team members who will participate in the production of the work.
Handling of Private Information
At the Award Office, the policies concerning the handling of participants' private information are as stated below. By strict compliance with these close attention is paid to prevent the leaking, distribution, and falsification of the private information.
1. Private Information Use Purposes
Participants' private information will only be used within the scope of the use purposes stated below.
(1) Contact for production support.
(2) Notification of judgment results.
(3) Contact concerning check items regarding production works.
(4) Publication in respect of these awards to the mass media and on the website.
(The work title, recipient's name, school name, enrolled course, etc. Further in this case prior to publication, the team representative will be contacted and details checked.)
Where use for any other purpose other than those stated above, use will only be made upon obtaining the consent of the concerned person.
2. Disclosure or Provision to Third Parties
Every effort will be made to ensure an appropriate system for the management and protection of participants' private information.
No participant's private information will be disclosed or provided to any third party without the consent of the concerned person. However, within the scope required for the performance of duties related to office management, there are cases where disclosure is made to a commissioned party.
Further where disclosure is required to protect a person's life, prevent physical injury or damage to assets and it is difficult to obtain the concerned person's consent or where an order for disclosure of the private information has been made under law, the above will not apply.
3. Consent of Participants
Participants after confirming the contents of the "Pledge" separately distributed should affix their seal. Submission of the pledge is evidence of obtaining the consent of participants.
Other Important Items
As regards these awards, do not leak any information concerning the work (project plan, moving and still images, etc.) to any party other than a person related to your team.
Generally even after the awards have been made, in respect of the complete package containing projection materials, this should not be published to any third party.
While SNS, etc. may be used to write message concerning the awards themselves, prior to the actual screening of the produced works (moving and still images) uploading is prohibited.
It is not allowed to publish or upload the completed video data without the permission from us even after the award.
Distribution or publication on the internet of the production chart, written materials, sound sources provided by the Award Office is prohibited.
The making of slanderous or defamatory comments in respect of the organizer, co-sponsors, cooperating companies, and the schools of other participants is prohibited.
---
About Entry Form
Entries for "Tokyo International Projection Mapping Award Vol.4" are closed in 14th June at 6pm in Japanese time.
Thank you very much for many applications.